November 7, 2011
this caught my eye. the fashion brand, unif, is putting out some extremely aggressive and satanic clothing in their new line. i though this one in particular was worth checking out. the upside down cross, the inverted pentagram goat head, the devil horns hand gesture and a mickey mouse head.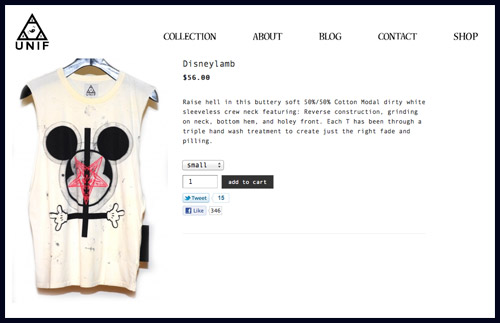 it is interesting that mickey is included in this considering most people think of disney as a harmless dream factory however those that know about the occult are well aware that disney is as evil as it gets.
they have many more that are equally disturbing. a lot of these symbols have been pulled directly from the necronomicon and they are used for witchcraft and spell bounding.

the word unif is peculiar as well. reminds me of unicef which are letters that can be pulled form the word luciferian – of course people think i am digging deep on that one but if you did some research on unicef you would find out, much like disney, it isn't what it appears to be.
here is the video on the unif about page:
if you wear these symbols, you will literally get sick.
prince charles + vlad the impaler