January 5, 2010
don't get me wrong, it is nothing i support – but this is the sort of thing that makes me fall in love with the web all over again. beautifulpeople.com is a social dating site that only allows it's member to be beautiful. and if you don't meet their criteria then you get kicked out. recently as an example they kicked off over 5000 people for packing on weight over the holiday season. you hear that you ugly shit eaters!!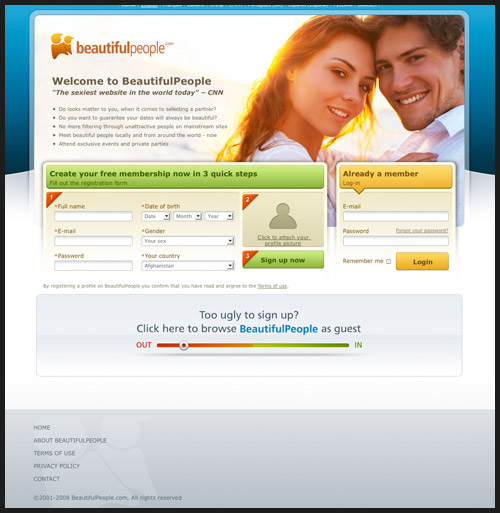 it is like studio 54 or the clique in high school that would never allow the fat ugly people to be a part of it. in order to get in, you have to be voted in.
in a recent cnn article the site was featured discussing their controversial methods. i personally think it is pretty straight forward. soon there will be a sports site that will monitor if you are jock enough and will also kick you out if you don't measure up – and the best part: people will pay in order to be included. imagine if you could go back to high school and pay to not be the awkward kid drawing dicks in class.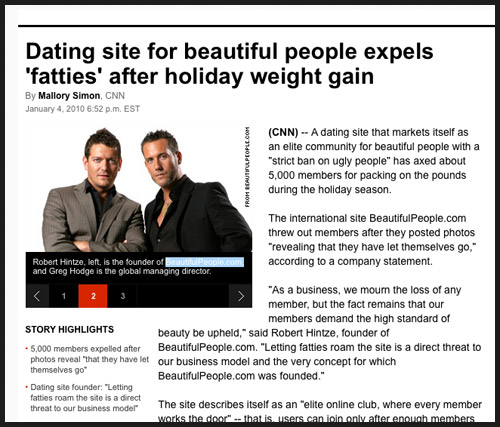 this for some reason reminded me of ashley madison, the site that promotes having an affair on your spouse. in fact they guarantee you will have one or your money back. what a deal! with over 5 million members you can sign up and within minutes find someone to have an affair with. a horrible horrible website but damn effective.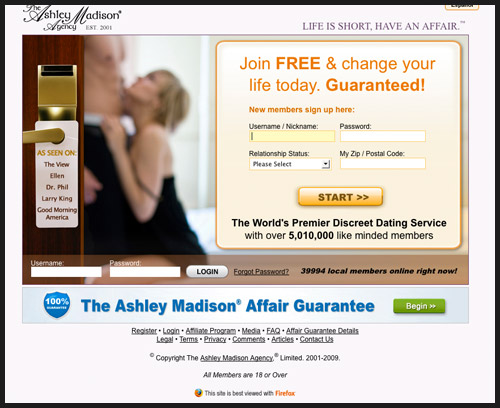 …a site for cowards.
happy new year, i am finally back