February 25, 2010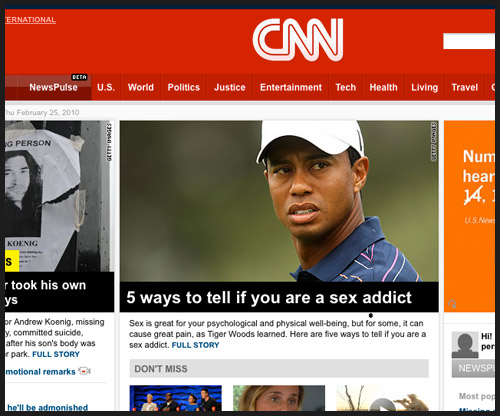 welcome to 2010's most popular excuse for cheating on your spouse. i know his pr agency was sitting around brainstorming thinking how do we bring tiger back? we need to somehow make him look like a victim………… wait… i got it! it's the vagina's fault! he's like, uh uh addicted! yeah!
well, fuck you pr agency and fuck you tiger. i figure if i use the word fuck enough you will see that i think this is lameo. fuck.
it's not that i don't believe in sex addicts. i have met a few – i call them sex pots but either way it's the real deal. however, that being said – i do not think tiger is one of them. god complex maybe. sex pot? no.
so i started reading and i just had to pull some stuff… this is from another case:
After leaving the treatment center, he continued on outpatient treatment, and has not cheated on his wife again.
i love that. i assume he got better at lying? maybe used ashley madison dot com? read the rest of the shenanigans here. oh, and stop having sex people! your all addicts!
donald duck – der fuehrers face